Intercol blends, manufacturers, and develops a wide range of water-based liquids. These can be used for specialty coatings, adhesives, primers, binders and treatments. Our liquid products are easy to integrate in production processes, and with our R&D center, we can optimize products to increase production efficiency and product performance. Most common adaptions are in the direction of setting speed, optimizing production processes, making water soluable (cleaning), waterresistancy, fire retardancy, UV restancy and food grade.
Our products are mostly custom-made our dedicated technicians are available from the first vistit to your factory and can monitor all supllies to you. We develop the right product for your application.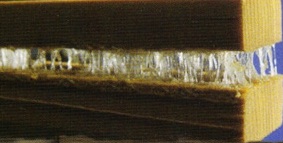 PVOH products
Intercol has developed various liquid polyvinyl alcohol products, which can be used in various applications. Togehter with the customer we determine what properties are needed for your industrial application. We will develop a liquid, toll blended, PVOH solution which best meets these criteria.
Polyvinyl Alcohol Properties
Polyvinyl alcohol is a water soluble polymer which is used in coatings and adhesives. PVOH has excellent film forming, emulsifying and bonding properties. An important factor is the specific degree of hydrolysis for the PVOH.
DEGREE OF HYDROLYSIS
The Hydrolysis degree is the ratio of
hydrophobic acetate groups and hydrophilic alcohol group. The ratio influences the water resistance of a dry film. A fully hydrolyzed PVOH offers improved water resistance over a partially hydrolyzed PVOH.
DEGREE OF POLYMERIZATION
The polymerization degree expresses the size of the polymer. It's a result of the molecular weight of the polymer. Increasing the degree of polymerization results in:
Higher viscosity of the liquid (Generally measured in the Brookfield method)
The PVOH film offers more adhesion strength
Higher resistancy to solvents
POLYVINYL ALCOHOL IS USED IN MANY INDUSTRIES
Paper coatings as a size press film former
Binding agent
Board coatings as a protein replacement
As adhesive for paper boards
Water-soluble film useful for packaging
As adhesive for wallpaper manufacturing
Textile sizing agent
In spiral tube winding and solid board production
Making solid boards
Release liners
As carrier of chemicals
Optical brightener carrier
Mold release for casting, such as epoxies
Additive in offset printing fountain solutions
Sacrificial coating layer